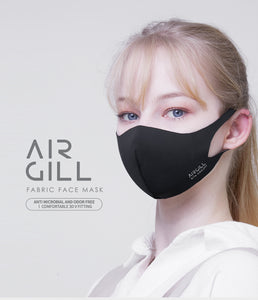 Discounted Price with Package of 3
ViralOff®

Textile Treatment Technology
Polygiene

ViralOff®

 is a brand for a treatment of textiles and other products that reduces viruses by 99% in two hours.
ODOUR CRUNCH

STAYS FRESH TECHNOLOGY 
Odour Crunch

stays fresh technology consists of silica, the main ingredient in sand, modified with a unique catalyst that breaks down the odour. Once the odour molecules are adsorbed, they will be catalytically cracked and broken down and the offensive odour is permanently eliminated.
General Size Recommendation:
X-Small: Children to Young Adolescent
Small: Mature Adolescent to Petite Adult Female

Medium: Adult Female to Slender Adult Male
Large: Adult Male
Size: **Note, that this is a "GENERAL" size recommendation, even within the same gender/age bracket, every individual varies in their facial size/structure. For a more accurate sizing, please refer to the size chart. Thank you.
How to care for your mask: What is unique about ViralOff® Textile Treatment is the fact that it is a durable and always-on treatment. For best antiviral performance and sustainability, wash less and only when needed under cold running water. 
Disclaimer: The mask has not been verified by any third party and it has not been certified for medical use. Wearing the mask is not guaranteed to provide full protection against viruses and does not provide full protection against risks of infections. ViralOff® is not intended to prevent diseases, it is used for the protection of the treated textile product. 
Refund Policy: We do not accept returns or exchanges unless the product is defective. The mask comes in an air-sealed packaging for hygienic reasons, once it is opened, it is no longer considered safe for sale. If you receive a defective item, please contact us at info@airgill.ca within 30 days of purchase with the details of the product so that we can further assist you. 
Shipping: Free Expedited Shipping through Canada Post on Minimum order of $65 with tracking information.
Free regular stamp mail shipping through Canada Post with no tracking information for all other orders.
**This is to provide customers with best quality product at the lowest cost.
**We are not responsible for orders with wrong address. Please make sure to double check your address including the postal code. Thank you. 
**On rare occasions, parcels can get lost in the mail, in this case, customers must contact us within 30 days of purchase to receive further assistance.
Price Valid until further notice**